Eight of the greatest restaurants on Bonaire
When you are on holiday, it goes without saying that it is wonderful to dine out and discover the local cuisine and food culture. There are many culinary delights to be found on Bonaire, and the restaurants on Bonaire offer many opportunities. They range from small-scale and highly local to international treats. Bonaire is a crucible of cultures, which is reflected in local cuisine. You can find flavors from all corners of the world here! Dining out is not expensive on Bonaire. It is roughly equal to Dutch prices at regular restaurants. But affordable options include the local Snėks and Truki Pans. Most restaurants on Bonaire are found in Kralendijk, which is, of course, the vibrant center of the island. But there are good restaurants worth visition further from Kralendijk as well.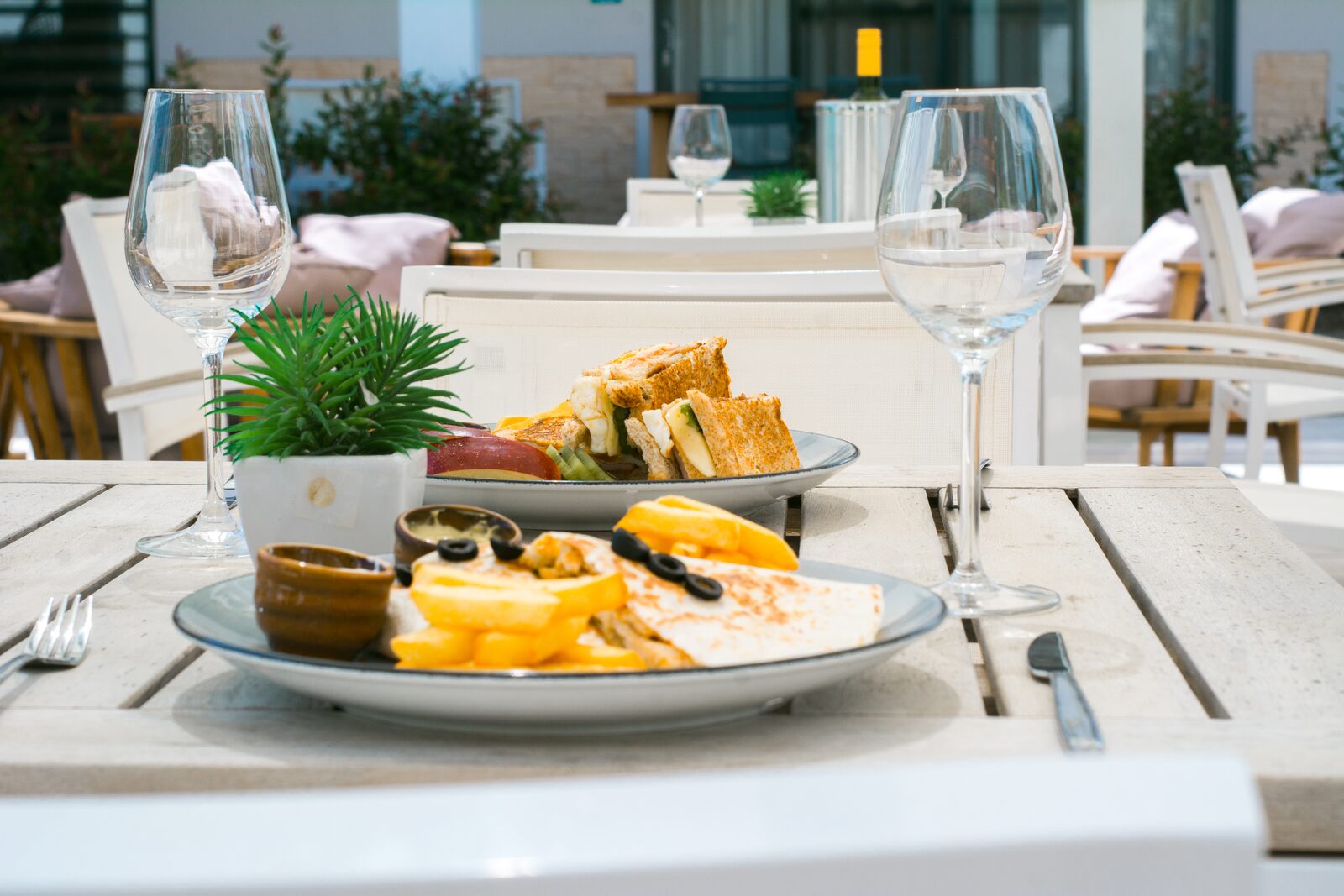 Our tips
We would like to share our top eight tips on where to go eat on Bonaire!
In case you find yourself not in the mood to leave Bonaire Resorts 'Resort Bonaire' on any given day, Mamma Mia Pizzeria is an excellent option! This restaurant is located adjacent to reception, and offers a diverse range of traditional and unique pizzas. Mamma Mia Pizzeria offers a pleasant terrace where you can smell the wonderful aromas while your pizza is prepared fresh for you in the oven. The great thing about Mamma Mia Pizzeria is that you can also take away the pizzas to eat them at your own apartment. Enjoy a tasty and fresh meal without having to leave the resort!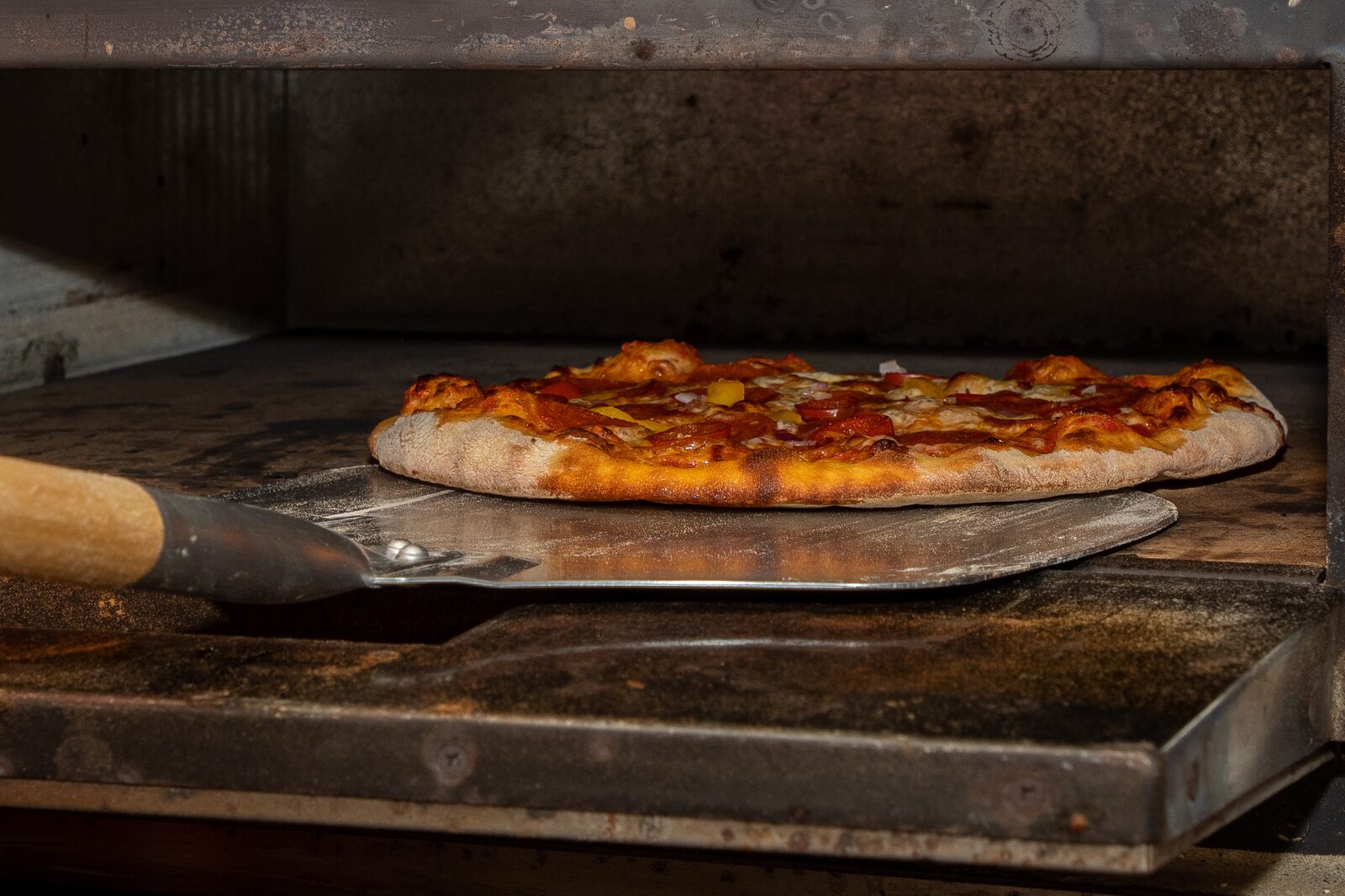 We also recommend restaurant La Cantina in Kralendijk for a good and affordable meal on Bonaire. La Cantina is located at a distance of 2 kilometers from Bonaire Resorts 'Sunset Beach Resort'. Situated near the coast with a wonderful enclosed garden, the kitchen of La Cantina offers international cuisine but with fresh, local ingredients. They also have their own brewery where they brew artisanal beers, in addition to their wide selection of international special beers. This restaurant on Bonaire also offers a fresh fish market, which means their fish options on the menu are very diverse and always daily fresh!
For some ultimate culinary delights on Bonaire, you can take a seat at Restaurant Brass Boer at a stone's throw distance from Bonaire Resort 'Resort Bonaire'. As the name may suggest, it is the Caribbean little sister of De Librije in Zwolle by Jonnie and Thérèse Boer. They have been fans of Bonaire for years, and a long-cherished dream has come true for them with this restaurant. In addition to delicious food, you can also enjoy the view and the ambiance here. After all, Restaurant Brass Boer Bonaire is situated right at the azure sea and the beach. You can have breakfast, lunch, and dinner here, and a visit to this restaurant will definitely be a highlight during your stay on Bonaire!
Favorites among the local population include the Snėk and the Truki Pan. A Snėk is a simple restaurant with a focus on the bar aspect, and where affordable takeaway meals and locals snacks are sold as well. This makes a Snėk a true meeting point for the local inhabitants. A Truki Pan is a food truck, most of which have a fixed location on the island. They originated as bread carts, but all kinds of delicacies can be bought there nowadays as well. We highly recommend Stoked Foodtruck, which can be found at Te Amo Beach south of Kralendijk, at two kilometers from Bonaire Resorts 'Resort Bonaire'. Here, you can get delicious burgers and wraps and eat them at the beach.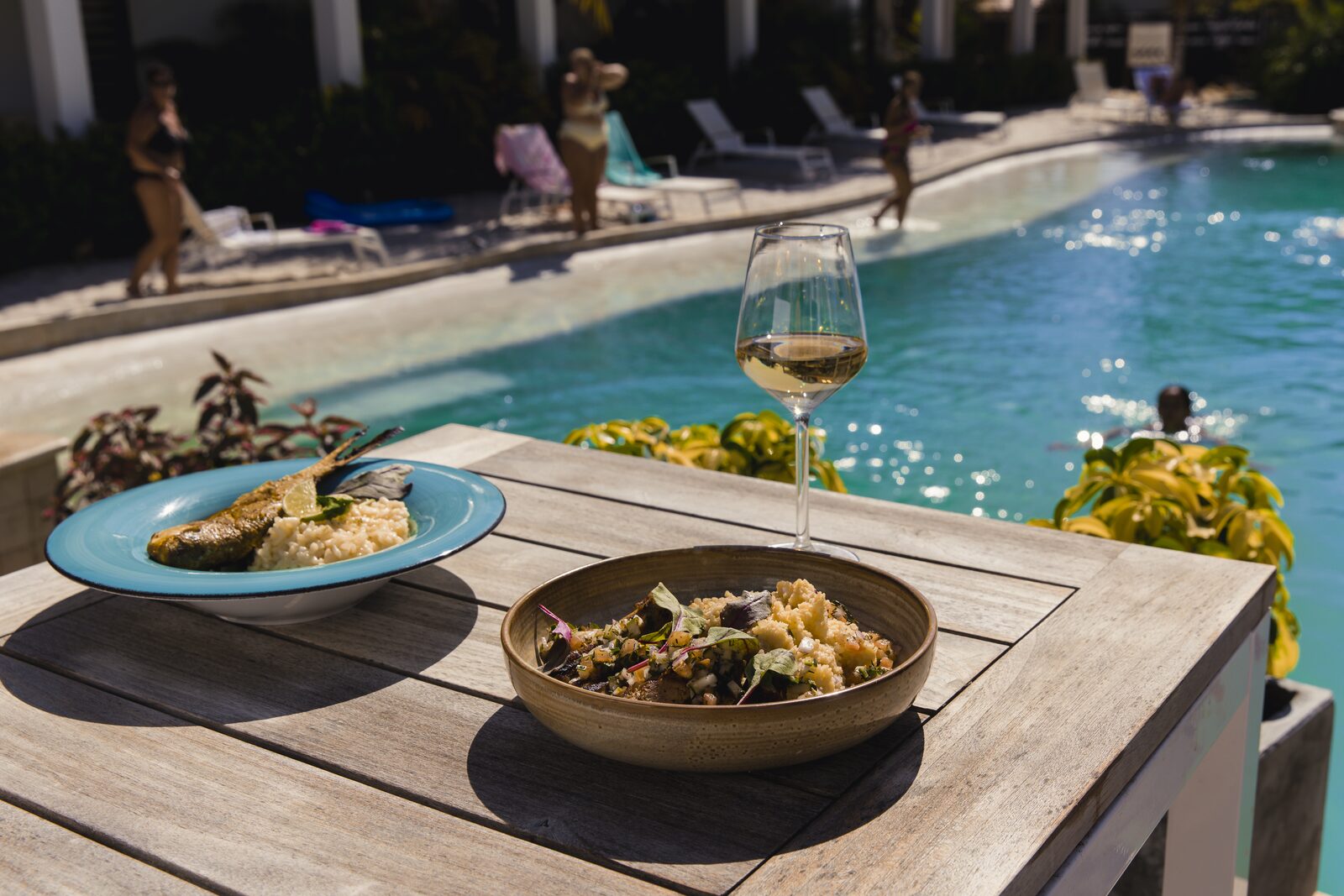 Ocean Oasis Beach Club is within walking distance from Bonaire Resorts 'Resort Bonaire'and understands the diversity of the backgrounds of the cultures that shaped Bonaire. At this restaurant on Bonaire, you will therefore find a combination of everything the Caribbean kitchen has on offer, prepared in the semi-open kitchen in a traditional charcoal oven. You can also enjoy some wonderful lounging and enjoy the clear blue sea at the lounge area with lots of shade and comfortable benches and beanbags. It is also a great place to spend some time for those who like the sun, wit its white sandy beach with pleasant recliners and cabanas.
Hang Out Beach Bar - Jibe City
Another pleasant place to dine on Bonaire is found at Sorobon Beach. Sorobon Beach is situated on the east side of Bonaire, meaning you will have to go for a drive to get there from our resorts. But the trip is worth it! Here, you will find the Hang Out Beach Bar of Jibe City. You can enjoy various kinds of sandwiches, salads and chef specialties here while you relax in the Caribbean atmosphere with a cocktail in your hand. It is also the hot spot for learning how to wind surf (or to watch it of course, because the white sand is wonderful there too)!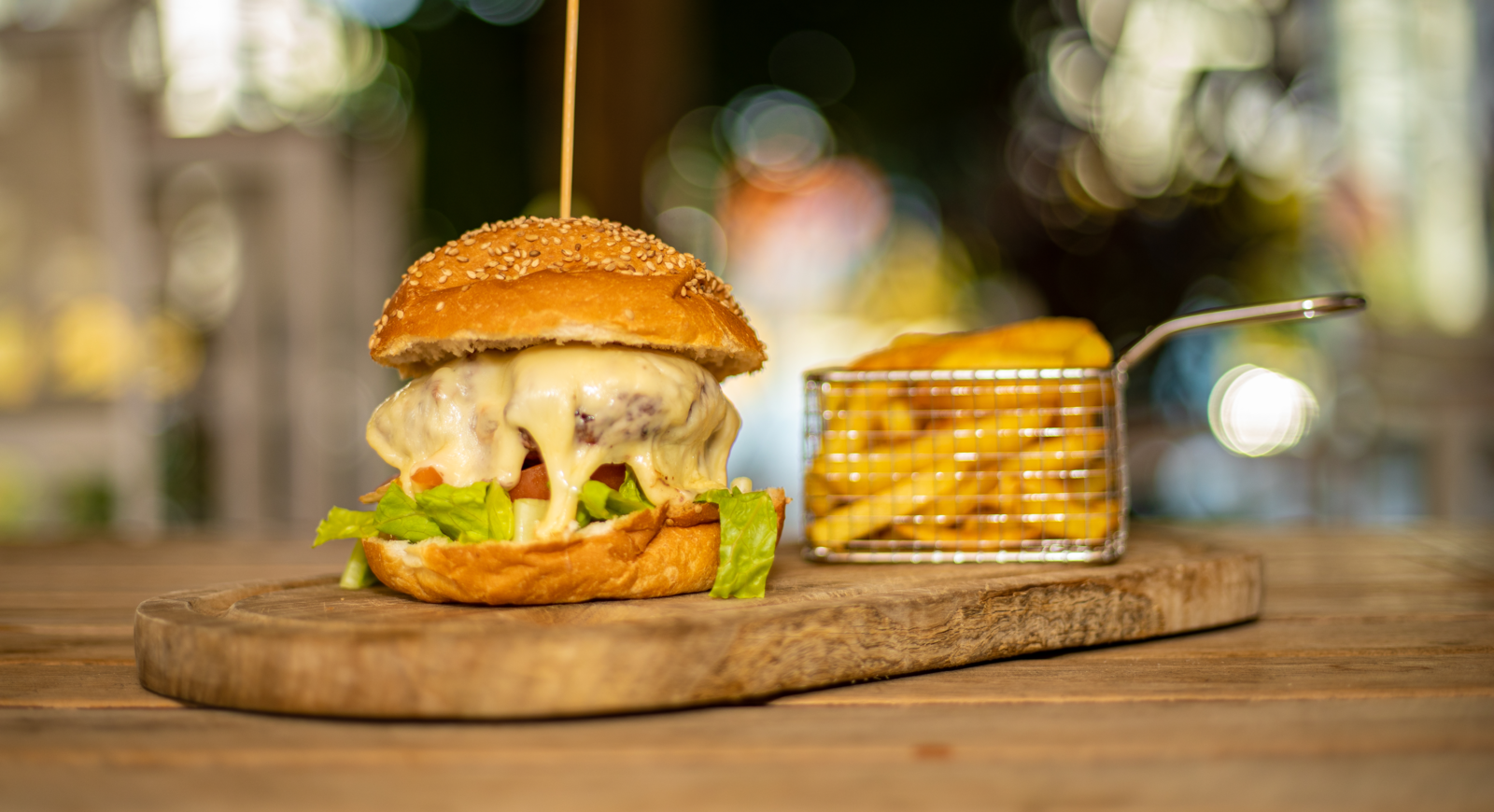 The Cuba Compagnie is our next trip, a pleasant restaurant with a Cuban atmosphere located at 2 kilometers from Bonaire Resort 'Sunset Beach Resort'. The kitchens is a mix of Europe and a spicy piece of South America. To dine out on Bonaire, you can take a seat at two terraces at Cuba Compagnie. Will you choose the terrace with a view of the Caribbean Sea? Or do you prefer the other terrace, located on the main street of the center of Kralendijk, where you can enjoy some peoplewatching and where something is always going on? It is even better when you visit this restaurant on a Thursday evening, because right after finishing your dinner, you can swing along during the Latin Dance Night at this fun restaurant on Bonaire!
At four kilometers from Resort Bonaire, you will find Joe's Restaurant at a great location, outside the center of Kralendijk. A diverse international cuisine is served here.
A last tip is another food truck you shouldn't miss: King Kong Burger located at Bachelor's Beach, again at a stone's throw from Bonaire Resorts 'Resort Bonaire'. Here, you will find amazing burgers, hot dogs and options for French fries. It is a regular stop for many during their visit to Bonaire. King Kong Burger prepares their dishes with honest, local and fresh products.
Just outside of Kralendijk when driving toward the northern part of Bonaire, you will pass Between 2 Buns. You can visit this lunchroom for a delicious breakfast and/or lunch.
Gio's at the Kaya Grandi in the center of Kralendijk is the place to go for the most delicious ice cream. In addition to the traditional flavors, they also have a wide range of innovative ones.  Something for everyone!