Clean beaches
Azure blue sea
Pebble, gravel, sandy beaches
The first beach on Bonaire that we describe for you is Te Amo Beach. This beach is known as the most romantic place on the island, so therefore the name. It is located on the west coast of Bonaire, near the airport. This gives you a spectacular view of arriving planes from Te Amo Beach. The currents here are calmer, making it a good place for snorkeling. If you enjoy the sun and the sea here, it is also possible to suddenly encounter sea turtles!
If you are looking for a pearly white sand beach, No Name Beach is the place to be. This beach is located on Klein Bonaire, a small island west of Kralendijk, and is the main attraction on this uninhabited island. The island, and therefore the beach, can only be reached by water taxi. Along this beach on Bonaire is an elongated coral reef, ideal for snorkelers and inexperienced divers. Discover the different types of fish and colorful coral from No Name Beach.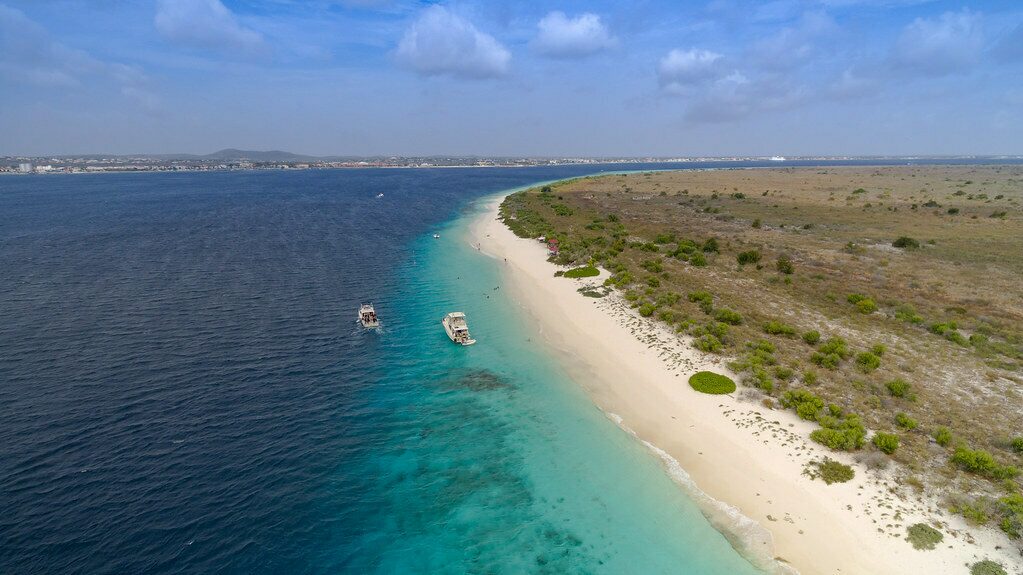 Lac Bay is the place to be for windsurfers. Located on the east coast of Lac Bay you will find Jibe City, where the real surfer mood rules. Because of its location there is almost always a perfect wind. Here you can take lessons or lie back on your beach lounger, which is free of charge. Show off your skills on the open water of Lac Bay, or relax and enjoy the colored surfboards. The shallow, crystal–clear water is the perfect place for a day at the beach.
Coco Beach is ideal for salsa music lovers. During the day you can play beach volleyball or have a drink, and in the evenings there is often live music on weekends. The food is wonderfully fresh and tasty because the restaurant sources its ingredients from suppliers on the island as much as possible. After a terrific sunny day, come and enjoy live music, dance with your bare feet in the sand to the sounds of the Caribbean music and drink a cool beer or a refreshing cocktail at the Coco Beachbar. This will make your day at the beach on Bonaire complete!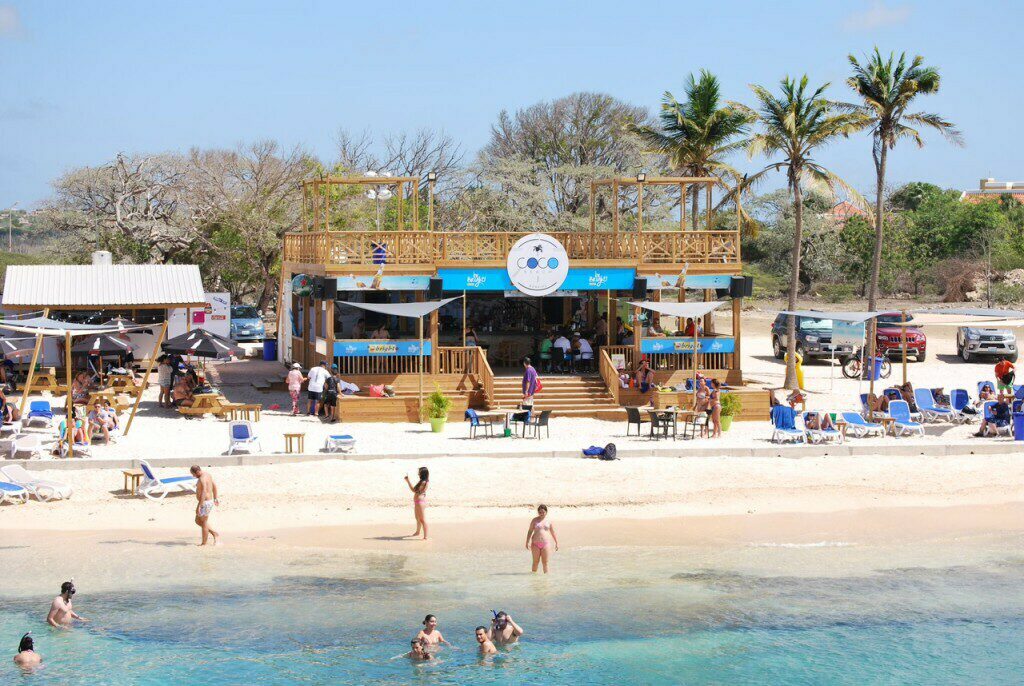 Just south of Flamingo Airport Bonaire you will find the small Bachelor Beach. This beach, one of the few sandy beaches on Bonaire, is located at the foot of a rock cliff that is three meters high. Bachelor Beach is accessible through stairs. You can park your car next to the stairs. The beach is especially popular with locals on weekends, but also for tourists it is a perfect place for swimming and diving.
This beach is part of the Eden Beach Resort, but is accessible free of charge for everyone. It is a beautiful sandy beach with palm trees and comfortable beach loungers where you can relax. Undertake various water sports or go snorkeling. Life under water is spectacular thanks to the tame, tropical fish. On Eden Beach, one of the most beautiful beaches on Bonaire, you can eat or drink at the Spice Beach Club and enjoy well–known DJs on weekends.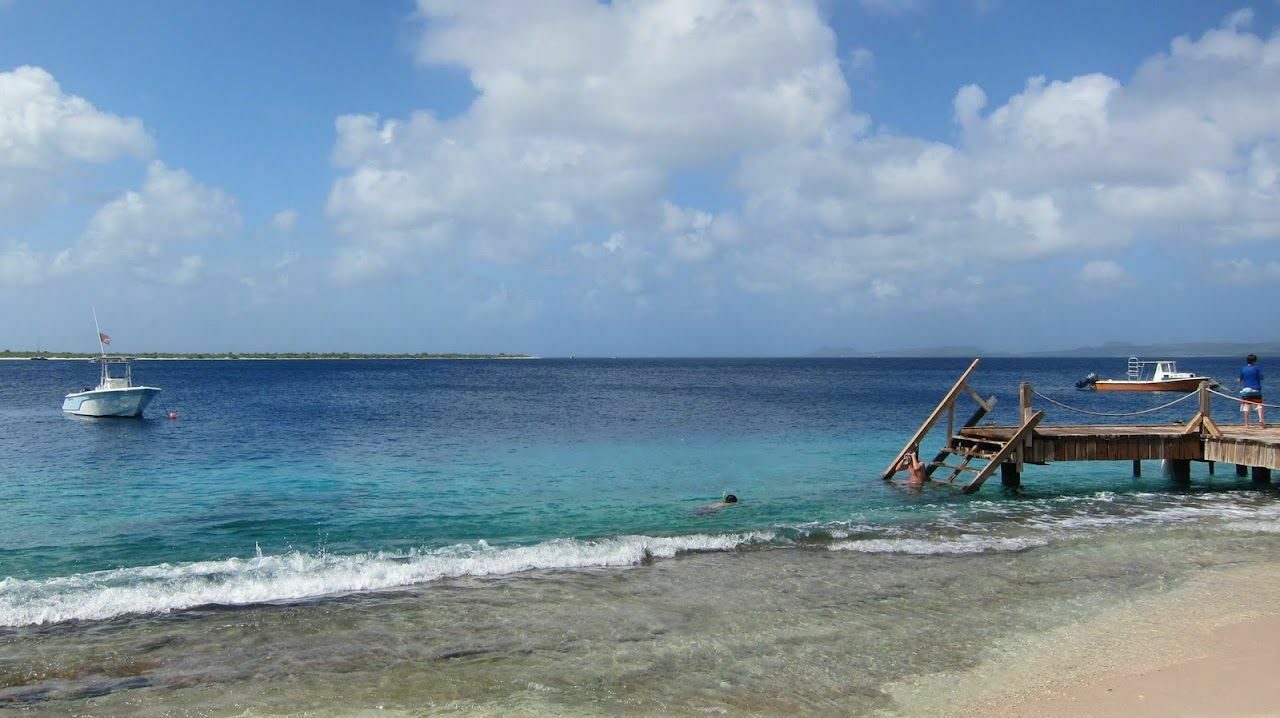 Would you like to know exactly where the aforementioned beaches are located? Then check out this map.
Beach vacation at Bonaire Resorts
You can visit these beaches from one of our resorts with luxury apartments and hotel rooms. The hotel rooms can accommodate up to two people, and the luxury apartments can accommodate up to ten people. These apartments include a kitchen with a dishwasher, a bathroom with a bathtub, a walk-in shower, and a spacious balcony. Furthermore, the hotel rooms and apartments are equipped with very comfortable beds. Fully unwind during your vacation in the Antilles!
Moreover, the resorts are equipped with luxurious facilities. Take a dip in the beautiful swimming pool with a sandy beach or order a drink from our poolside bar. During your stay, you also have access to free WiFi, so you can easily stay in touch with your friends or family.
Book your holiday to Bonaire
View prices and availability